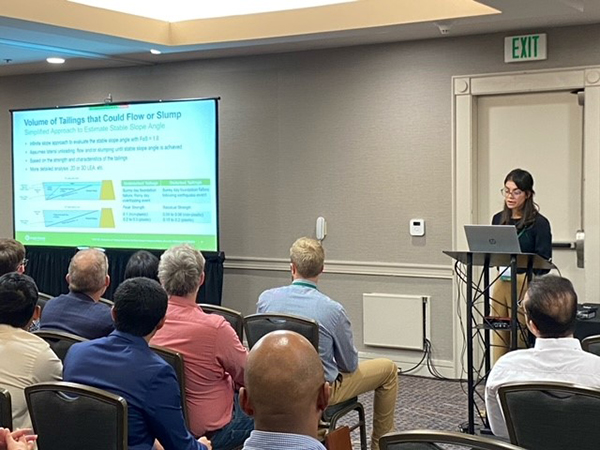 November 24, 2022, Vancouver, BC, Canada – Knight Piésold had a large team that took part in the 2022 Tailings and Mine Waste conference, engaging with mine waste professionals from across the globe. The in-person conference, which was hosted by the Civil & Environmental Engineering Department of the Colorado State University, was held at the Hyatt Regency Denver Tech Center in Denver, Colorado from November 6 to 9.
The Knight Piésold team included 16 specialists in geotechnical, environmental, and water resources engineering from five offices: Denver, Vancouver, Lima, Mexico City, and Belo Horizonte. The team also exchanged insights with industry peers, sharing findings on four case studies relating to design and operations, governance and regulations, and geotechnical considerations.
Thomas Sully, a senior engineer based in the Vancouver office, presented the paper, "Tailings Improvement by Stress-Densification from Waste Rock Closure Capping," which was co-authored by Ken Brouwer and Graham Greenaway of Knight Piésold and Dr. Peter K. Robertson of PK Robertson Inc. The paper summarizes the results of field and laboratory testing of the tailings stored in the decommissioned Candelaria tailings storage facility (TSF), showing improvements in the tailings residual shear strength characteristics as a result of increasing the tailings stress state. The results of the field and laboratory program support the use of stress densification as an effective tailings improvement method at the site.
Edwin Ruiz of Industrias Peñoles spoke about the paper, "Transforming Tailings Management Systems to Conform to the Global Industry Standard on Tailings Management: A Case History." The paper, which was co-authored by Heather Halderman and Paul Ridlen of Knight Piésold, outlines a case history of developing the first phase of a tailings management system. This process is significant in the context of a dynamic industry that is pushing for a culture of change towards zero harm, while also balancing the established technical aspects that govern tailings dam safety.
Julie Castellanos, a senior engineer based in the Vancouver office, presented the paper, "Application of 3D Limit Equilibrium Method in Tailings Dam Breach Analysis." Co-authored by Dr. Salina Yong and Dr. Violeta Martin of Knight Piésold, the paper describes a case study of a TSF undergoing closure activities, where three-dimensional limit equilibrium analysis was used to estimate breach geometry, breach location, and potential outflow volumes. It highlights the importance of integrating soil mechanics concepts with dam breach analysis methodologies to provide a more meaningful approach for evaluating potential runout impacts of a slump-type failure mode.
Castellanos also presented the paper, "Evaluation of Tailings Behaviour for Dam Breach Assessments," which was written by Dr. Amy Adams, Ken Brouwer, and Dr. Violeta Martin of Knight Piésold and Dr. Peter K. Robertson of PK Robertson Inc. The paper provides some insight into the links between simple index tests and rheological measurements for evaluating the potentials for a tailings mass to flow or slump. Simplified methods are suggested to predict the volume of material that may become mobilized in a dam breach event. Finally, practical mitigation measures to reduce the tailings flowability, enhance the impoundment stability and reduce the risk and consequences of a tailings dam breach are briefly discussed.
"The conference was a fantastic opportunity for our team to engage in discussions surrounding issues facing the mining community," said Halderman, a senior project manager based in the Denver office. "We were able to share our latest research and contribute to the state-of-practice in the tailings and mine waste management field. At Knight Piésold, we are continuously working closely with our clients to implement state-of-the-art technologies and methodologies to help them be at the forefront of this dynamic, evolving industry."