October 6, 2023, Lima, Peru – Knight Piésold Peru had a strong presence at the PERUMIN 36 Mining Convention, one of the most prominent mining events in Latin America. The conference, which was hosted by the Instituto de Ingenieros de Minas del Perú (IIMP, Institute of Mining Engineers of Peru), took place from September 25 to 29 at the Cerro Juli Convention Center in Arequipa, Peru.
The Knight Piésold team included a large delegation of senior engineers and environmental scientists, including Guillermo Barreda, Rubén Vargas, José Mejía, Néstor Choquehuanca, Fanny Herrera, Maria Isabel Vadillo, Solange Paihua, Pilar Paihua, Edgardo Enríquez, and Ivan Vargas, strengthening relationships with existing clients and connecting with key potential clients in the industry.
In partnership with the British Embassy Lima, the team engaged with clients and the mining community from their booth at the international pavilion, further building on connections with British and international companies.
In addition, British Embassy Lima hosted a presentation and networking series, and on September 28, after an introduction by Gavin Cook, British Ambassador to Peru, Guillermo Barreda, General Manager of Knight Piésold Peru, gave a presentation on "Generating a Clean Impact: Tailings and Water Management Solutions – Water Balance." Barreda's presentation not only showcased his expertise in tailings and water management but also marked a significant step in conveying the company's leadership in this field.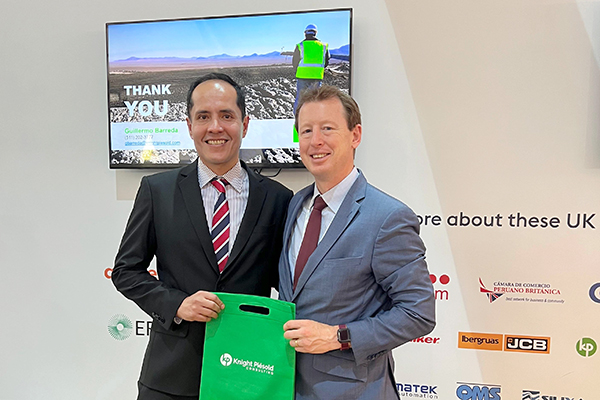 "Our warmest thanks to the Ambassador and the team at British Embassy Lima for inviting our team to take part in their booth," said Barreda. "Our partnership underscores our commitment to global collaboration and in supporting discussions on crucial topics for the advancement of the industry."
"At Knight Piésold, we take pride in contributing to the dialogue on sustainable solutions for the mining industry. We remain committed to leading tailings and water management practices, focusing on making a positive impact on the industry, and collaborating closely with partners and clients in the pursuit of innovative solutions."
For more information, read this interview with Barreda about Knight Piésold's 100-plus years of experience in the mining industry and this technical article about energy transition for mine managers.