July 26, 2023, Vancouver, BC, Canada – On Sunday, July 24, Scott Rees of Knight Piésold Canada plunged into the Pacific Ocean for his longest swimming challenge yet—a 30 km crossing of the Strait of Georgia. From Davis Bay in Sechelt, Rees swam across the Strait to Pipers Lagoon in Nanaimo, arriving to a crowd of cheering supporters. The swim is similar to other long-distance crossings, like the English Channel or Catalina Channel.
Rees has a genetic eye condition called retinitis pigmentosa that has caused a gradual loss of sight. He completed the swim to raise awareness and funds for the Canadian Guide Dogs for the Blind (CGDB), a charitable organization that set him up with Kaleb, his beloved 75-pound yellow Labrador Retriever. Since having Kaleb for the past two years, Rees has greatly improved his independence and mobility.
"Although I can still see some light, I have lost all functional sight, which has necessitated a significant transition in my mindset, career, and personal pursuits," said Rees, a senior engineer at Knight Piésold's Vancouver office.
"For over 15 years, Scott has been inspiring us with every step of his journey," said Ken Embree, President of Knight Piésold Canada. "He has continually adjusted the way he works, and how he commutes and gets around the office. When we heard about Scott's incredible challenge our first thought was that Scott can do anything he puts his mind to, and he will be successful. Through it all, he has shown triumph—a true example of remarkable courage and resilience for us all."
Swimming is one of the activities that Rees continues to enjoy, an activity fitting for the fundraiser. He regularly competed in short distance races as a kid and has more recently tackled longer open water endurance swims.
He completed the swim in under 11 hours with the help of a support team, following him from a nearby boat and giving him directions to stay on course through a waterproof headset. Rees' campaign has raised more than CA$140,000 for the CGDB so far!
"I am so fortunate to be supported by a great network of family, friends, colleagues, and more recently Kaleb," said Rees. "All of this has allowed me to navigate challenging times successfully, and now I wish to give back and help other blind Canadians, who may have bigger hurdles than my own."
After graduating in civil engineering from the University of British Columbia, Rees joined Knight Piésold's Vancouver office and has since been working on mining, hydropower, and water resources projects. His experience covers all phases of project development, from project identification and concept development to site investigations, detailed design, and construction supervision.
"Scott's condition hasn't held him back, and he continues to carve out a specialty in energy modelling for run-of-river, water storage, and pumped storage hydro projects," said Embree. "Kaleb has been a mainstay for Scott and a great part of our team, and we're extremely proud of Scott for undertaking this incredible feat and for giving back to a charity that has made such a positive impact in his life."
To find out more, visit the fundraising page at Swim the Strait.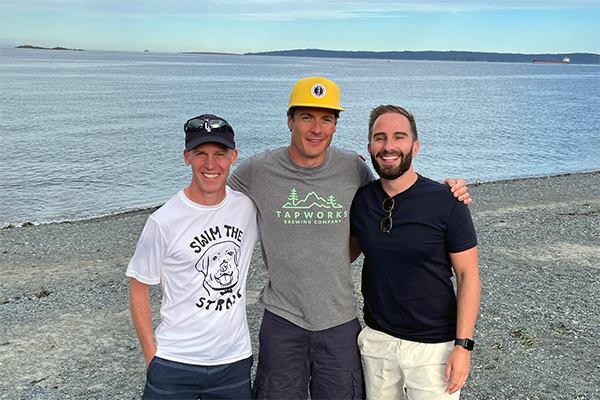 Scott Rees (centre) with fellow Knight Piésold Canada colleagues Jaime Cathcart (left) and Daniel Ruane (right) after completing his swim across the Strait of Georgia.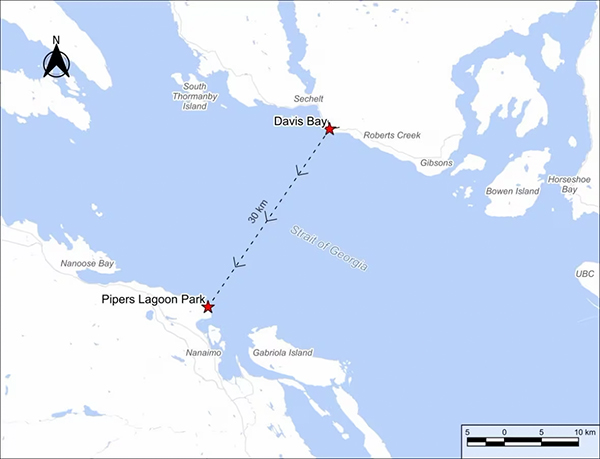 Swim route across the Strait of Georgia.