Publication: Mining Magazine
Issue: January 2020
The annual Mining Magazine Awards recognise outstanding companies, projects and technologies that have made a mark on the mining sector over the past year.
Editor's award: Inmarsat and Knight Piésold
In early 2019, Inmarsat joined forces with Knight Piésold UK with the aim to deliver highly accurate tailings dam monitoring, analysis and real-time management capabilities for the mining industry. Inmarsat's satellite-enabled IoT solution was combined with Knight Piésold's industry-leading consultancy to enable smarter decision-making, improved safety standards and support regulatory compliance; offering a new approach to the way tailings dams are currently audited and managed.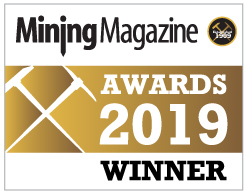 Download the full article.